In Freedom's Cause: A Review.
In our homeschool we use a lot of Charlotte Mason's methods. I adore Charlotte Mason! This past year has been a big challenge for us since Charlotte Mason style schooling involves so much reading together and discussing. Henry, as the adorable and terrible toddler he is, does not make reading aloud and talking very easy. In desperation I stepped back from pure Charlotte Mason style and instead let Rosie do some workbooks, which surprisingly she loved. When The School House Review Crew had the opportunity to review an audio theater production based on the G.A. Henty book called In Freedom's Cause done by Heirloom Audio Productions I was really excited.  Heirloom Audio Productions sent me the In Freedom's Cause Single Package to review.
G.A. Henty wrote wonderful living books that we would use as a part of our Charlotte Mason based schooling, and this is an audio theater production, which means it's not just someone reading the book. It has sound effects and different actors! A chance to enjoy some quality living literature without having to be the one to read it out loud and fight the terrorizing toddler? Yes please!
I will confess something to you: You can download free audio readings of many living books like In Freedom's Cause from public domain websites online to use as part of your homeschooling curriculum. Audio books were the first thing I tried when I realized Henry was too loud and busy for me to sit and read peacefully to the girls as part of our school day. But you know what? My kids hate (HATE!) audio books. They can't focus on them, they get bored and wonder away, or they have no idea what the reader just said because they're day dreaming.
That's why I was eager to try In Freedom's Cause recorded as an audio drama by Heirloom Audio Productions. Would the kids like it better this way? I really wasn't sure.
The cast of actors on In Freedom's Cause is pretty impressive. It includes Joanne Froggatt, who plays Anna on Downton Abbey. (One of my favorite Downton Abbey characters!) The actor who played Edmund from the Narnia movies is also part of the cast. I was surprised the actors were such big names. You can see the entire cast list here on their website.
In Freedom's Cause is about William Wallace, whose faith and vision inspired the common farmers and merchants of Scotland to take up arms and defeat a mighty army, along with the help of their king Robert the Bruce. They believed Scotland's freedom was worth fighting for! The audio drama really makes G. A. Henty's book come alive. I was surprised to learn how important God was to William Wallace. The story provides great examples of morals and faith for kids.
Did my kids like the audio theater production version better than a regular audio book?
Yes! They loved it! Rosie (age 8.5) said it sounded like a movie, but without pictures. Ada (age 4.5) was completely enthralled and begged me to turn it on every time we went somewhere in the car.
I enjoyed it too. I think The Terrible Toddler was even listening because he was silent the entire time we were driving instead of his usual relentless screaming and yelling. The story is a robust 2.5 hours long!
We live in a small town about an hour away from the larger city, so when we go to doctor appointments or run errands we have to drive for a short distance. It was nice to be able to listen to something both entertaining and educational while driving. I actually had trouble focusing on the road because I was imagining the story. It was very all-encompassing. If a normal audio book is 2D, this was completely 3D. Every possible sound effect was included, like swords clinking and people walking, horses neighing, doors creaking. Of course the actors did a superb job becoming their characters.
In addition to using the CD's in the car we also were able to study more about the story at home thanks to the bonus features provided with the 2 disc set. There's a full curriculum included, which is awesome! Sometimes we will read or listen to a book that I know is full of all kinds of educational potential, but I can't seem to figure out how to start a good discussion about it with the kids. The bonus curriculum with In Freedom's Cause made sure that didn't happen.
The introductory note with the 30 page study guide explains its contents better than I can:
"This is a study guide for the new G.A. Henty audio theater presentation, In Freedom's Cause. It is designed for parents who want help talking their younger children through the storyline and its lessons. It can also serve as a series of written assignments for older students. The sets of questions begin and end as the narrative takes new turns, and each may cover from four to ten minutes of the audio drama. Each set of questions has three parts, Listening Well, Thinking Further, and Defining Words."
"At the end of the study guide there are three brief Bible studies that may help you and your child come to a clearer understanding of some of the biblical themes that are woven into the narrative. These studies may help you understand the story and its heroes better. At the end, there is also a note on the history of Scotland for those whose knowledge of history may be weak in this area, and there is a recommended reading list for parents and older children who want to know more about Sir William Wallace and his times."
I'll admit that my 8.5 year old isn't quite ready to understand every concept that goes with this story. The recommended ages are from six to adult, but some of it was over her head. However the quality of both the audio production and the bonus features are so great that I'm storing this away on the shelf to bring back out again in a few years when she's ready to dig deeper into Scotland's history with me! Once the kids are a few years older I would love to spend half an hour every evening curling up together and listening to audio dramas.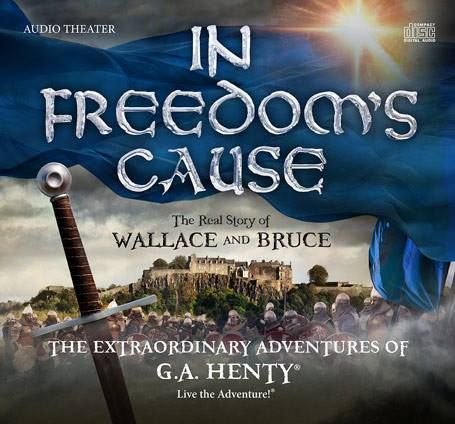 Want to know how to get this fantastic audio drama for your family?
There are several purchasing options for
In Freedom's Cause
.
Click here
to see them all listed on their website and to purchase.
The cheapest option is the $20 instant mp3 download. This includes two bonus items:
1) "The complete In Freedom's Cause eStudy Guide and Discussion Starter. 30 pages of In Freedom's Cause discussion points, history-learning guides and story-related Bible study. Designed by Christian educators as a complete story curriculum to complement the In Freedom's Cause audio presentation."
2) The prayer of William Wallace presented in a lovely printable format.
For $29.97 you can purchase the instant access mp3 download plus a beautiful 2 disc CD set of the audio production. You also get the two bonuses above and a third bonus:
"The In Freedom's Cause Soundtrack MP3 download. Only the second Audio-Theater Soundtrack ever produced! Contains all the original music by Emmy-winning composer John Campbell. John also composed the original score for C.S. Lewis' The Chronicles of Narnia… which… is a classic of children's literature that has sold over 100 million copies in 47 languages… and… he insists the In Freedom's Cause soundtrack is some of his best work ever. "
There's also a family package option which includes even more. As a reviewer I was given access to every bonus feature listed under the family package. There were seven in total, including a beautifully done e-book copy of G.A. Henty's original book, the soundtrack to the audio drama, plus a documentary of the making of the audio production! The cast and crew actually traveled to Scotland to walk William Wallace's path. So cool.
You guys, I honestly loved In Freedom's Cause. As someone with Scottish Highlander heritage it was fascinating to drop into such important historical moments and "meet" famous men of history face to face. The quality of the audio drama is excellent, and the bonus features really round it out perfectly to make it easy to turn a fun story into history curriculum.
The company who produced In Freedom's Cause, Heirloom Audio Productions, is currently in the process of creating two brand new audio dramas. One has yet to be named, and the second is With Lee in Virginia about the American Civil War. I'm secretly hoping The Schoolhouse Review Crew gets a chance to review this one too.  Heirloom Audio productions also has another G.A. Henty audio drama called Under Drake's Flag that I plan to check out soon. The Review Crew reviewed it last year before I joined and it sounds just as good as In Freedom's Cause!
Want to see other Review Crew member's posts about In Freedom's Cause? Check them out in the linky on this post!

Check out In Freedom's Cause and Heirloom Audio Productions on your favorite forms of social media while you're at it:
Facebook: https://www.facebook.com/InFreedomsCause Twitter: https://twitter.com/InFreedomsCause Google+: https://plus.google.com/u/0/b/112701427096792421838/112701427096792421838/posts Pinterest: http://www.pinterest.com/jointhecause – See more at: http://schoolhousereviewcrew.com/in-freedoms-cause-review/#sthash.ZrkvF8Un.dpuf
Just a note: This product was given to me to review as part of TOS Review Crew. What I've written above is our honest experience and opinion of the product, no embellishments or lies for the sake of advertising. :)  I only review products that I think our family and other similar homeschooling families would enjoy.