Visual Learning Systems: An Online Digital Science Review.

I've mentioned before that we're loosely Charlotte Mason style homeschoolers, right? For Charlotte Mason style science we have been doing nature study with water color paintings. This past year I'd been looking for something with more complex explanations to hopefully catch my 8 year old's curiosity when it comes to nature and science.
When the Schoolhouse Review Crew offered us a chance to review Visual Learning Systems Digital Science Online I jumped at the chance!
Reviewers received access to all the levels with Admin, Teacher, and Student accounts for a full year. This included:
Digital Science Online: Elementary Edition (Grades K-5) (This is primary as well as elementary science.)
Digital Science Online: Secondary Edition (Grades 6-12)
From Visual Learning System's website:
"Digital Science Online is an annual subscription to an elementary or secondary school collection of science videos, clips, animations, images, assessments, student activities, and teacher's guides. Teachers and students have 24/7 access to Visual Learning Systems' vast science media library at home or school."
I was pleasantly surprised to discover the amount of depth included in the short lessons. Each lesson is broken down into very short chapters that are only a few minutes long. The total time of each lesson is 10-20 minutes. Since we try to keep lessons short this was perfect for us!
The lessons cover a range of topics:
physical
earth
life
integrated
health
biology
Each lesson includes vocabulary words and a quiz in the video. The teacher's guide has worksheets, tests, and hands on experiments to go with the lessons.
We used the elementary science edition 4-5 days a week for six weeks, and we plan on continuing to use this in our homeschool for our full year of access!
My favorite thing about this product is the "digital science online" bit. There's no textbook to fumble through, no copies to make. It's just like the name says, online. It works on PC, Mac, and even on iPads. Anywhere you have internet you can whip out some science work. Your toddler can't scribble it, your four year old can't spill a glass of juice on it, and your eight year old can't keep losing it because it's all digital. (Take that, children!) The lessons are even close captioned for deaf students.
The site is super simple and and was easy for us to navigate. My eight year old could easily find the videos and watch them herself, though I watched them all along with her because I love science.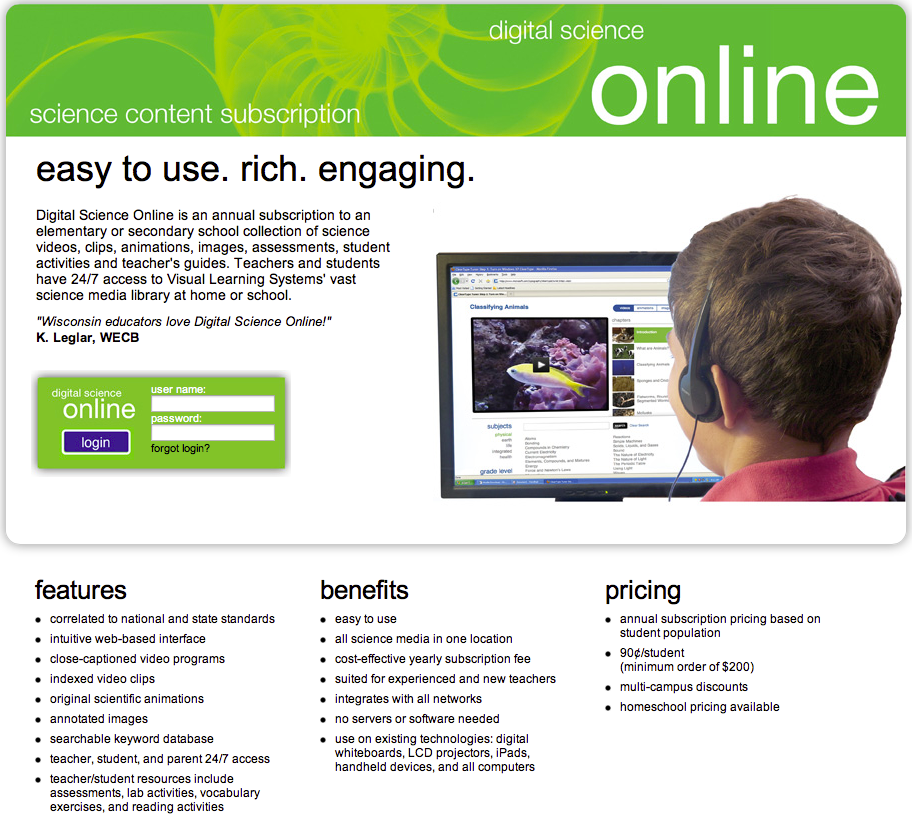 The homeschool pricing is pretty reasonable considering the crazy amount of content you receive!
I really appreciate the opportunities we've had to review so many homeschooling products lately. These are all things I would never have thought to try on my own, but our homeschooling has been very much enhanced by the variety of new things and new learning styles!
I've discovered that we're big fans of online learning. Rosie loves doing school on the computer or her iPad mini, and it's easy for me. Win-win situation.
To see more reviews of Visual Learning System Digital Science Online click below:


Facebook -http://facebook.com/visuallearningsystems
Twitter –
https://twitter.com/visualearning