ARTistic Pursuits: A Review.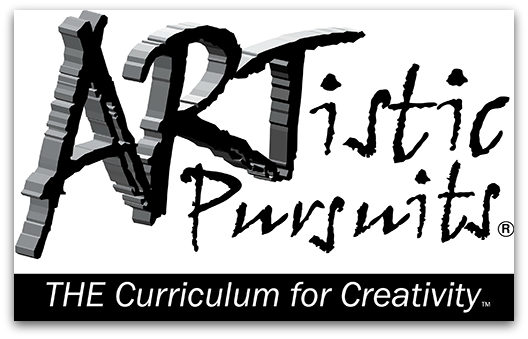 Another review! Another product we really enjoyed and are continuing to use! Rosie has been busy exploring all of these new products. It has been a lot of fun for us to get to try out new curriculums and topics we would ordinarily not be able to afford to buy. 
Today's review is about an art curriculum called Artistic Pursuits. We were given Elementary 4-5, Book 1: The Elements of Art and Composition and about six weeks to review it. Other reviewers were given various books at different levels from the ARTistic Pursuits curriculum, so if your child is at a different grade level you can check out the banner link to the rest of the reviews at the bottom of this blog post.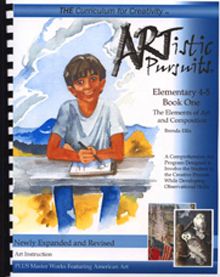 One of Rosie's goals is to be an author/illustrator when she grows up. She spends hours, seriously HOURS, writing books and illustrating them. I'm talking thirty or forty page chapter books! In the past she took an art class with a local artist, but we have since moved an hour away. We stopped taking the classes because it was using a lot of gas to drive out there, but Rosie has been begging to start classes again. I thought she would enjoy reviewing an art curriculum, and I was right! She was so excited when it came in the mail.
Elementary 4-5: Book One has both drawing lessons and art education. We love Charlotte Mason style learning at our house, which includes artist and picture studies. I was pleased to find that ARTistic Pursuits fits very well with Charlotte Mason's picture studies! The book includes color reproductions of famous paintings and gives simple but thorough discussion of historical notes from the time period, info about the life of the artist, and artistic elements to observe within each painting.  
This book is an excellent addition to a Charlotte Mason style homeschool.  I am very happy that we discovered it. I had never heard of Artistic Pursuits before. I have casually scoped out other Charlotte Mason style art study curriculums, but I had yet to find one that combined picture study with actual drawing instruction like this one does!  My kids definitely learn best through doing, not just passively listening, so observing works of art and then learning how to replicate styles within it would be exactly what we needed at our house!
Book One for grades 4-5, which we received to review, focuses mainly on American masters including Remington, Audubon, Copley. It also teaches children how to notice the elements of art in nature, which is wonderful to tie into our nature studies. The book is designed for kids to be able to do the work on their own without a parent standing over them. It's simple enough for kids to understand. However we did not find that the information seemed like watered down summaries at all, which is something we try to avoid in curriculums. 
Book One teaches realistic drawing techniques alongside the paintings by American masters. This book works with pencil drawing, scratch art, and markers. Rosie is learning how to work with direct observation to create a sketch, ways to show texture, how to show form with lines, and other things relevant to creating realistic sketches and drawings. Even though Rosie is only in 3rd grade, not 4th, this book has been perfect for her level. It would be fine for any child who has a good handle on reading and working independently.
Here is an example of a page teaching a drawing skill. You can read the full page in a larger format on
their website
.
Click here
to open the PDF sample page.
Here's Rosie practicing a line and shape drawing!
I also really like that the book is spiral bound–that makes it easy to stay open! 
I am very pleased with the level of detail and knowledge ARTistic Pursuits provides in their curriculum. We will definitely be using the other books in the series after we finish this one! 
We've only been working on the book for six weeks so far, but as Rosie advances I hope to be able to share some of her drawings. 
If you're interested in checking out reviews from other levels of ARTistic Pursuit's curriculum click the banner below!