Latina Christiana I by Memoria Press: A Review

When I was in school I always wanted to learn Latin, but I was never given the chance. I've always planned on learning Latin along with my kids as part of our homeschool. I've glanced at Latin courses online before, but I was overwhelmed with all of the choices and had no clue which one to buy.
These past six weeks we were given the opportunity to review the Latina Christiana I Complete Set by Memoria Press. This is aimed towards kids in 3rd grade all the way up through 12th grade. Rosie is in third grade this year, so we decided to give it a try!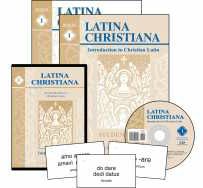 Rosie made her own unboxing video of the curriculum with the assistance of her little sister Ada. ;)
What was in the box?
Well, it was truly a complete set, everything you need to teach and learn Latin as a total beginner.
Teacher's Manual, a spiral book jammed packed with information
Flashcards made of cardstock
Student book, which is consumable, containing 25 lessons and 5 review lessons
Pronunciation CD, includes the words in each lesson and performances of prayers and songs in Latin, 35 tracks
DVD's: Five instructional DVD's that include all 25 lessons.
After the kids made this unboxing video I eagerly took the materials and cracked open the teacher's manual and workbook to check out the way the lessons were presented.
I love learning different languages, but I find it intimidating to teach them to my kids who have short attention spans. That's where this DVD comes into play. The DVD is genius. My 3rd grader isn't going to sit through the DVD lessons, but I can watch them and be all prepared to go over the material with her.
For an older student the DVD's are also wonderful because it enables them to do the entire course on their own without the need for a parent be the instructor.
Latina Christiana takes a traditional approach to language learning. Children learn systematic grammar and memorize vocabulary before being introduced to reading Latin text.
The teacher's manual clearly states the goals of the curriculum:
1) Pronounce, spell, and translate about 200 Latin words.
2) Learn 25 Latin sayings, two prayers, and three songs.
3) They lay out 7 goals pertaining to Latin grammar.
4) To learn about derivatives.
5) Four goals pertaining to learning the history and geography of the Roman empire, which is an optional part of the course.
The course is designed so that you're completing one lesson per week for a total of 30 weeks. The curriculum is clearly laid out with a lesson plan meant to be fully taught on Day 1 each week. Days 2 and 3 are drill days to go with the exercise form page. History questions should also be answered on these days, if you choose to include it. Day 4 is for written exercises. Day 5 is quiz day, time for games, and review.
What did we think of the curriculum?
In a nutshell, it's great.
The DVD's were excellent. I feel great about my ability to start Latin with my child and stick with it rather than getting overwhelmed or confused and giving up. (Which was what I was afraid might happen, since I don't know any Latin to begin with.)
The teacher's manual was also excellent.
The teacher's manual has the answer keys and information in the first half of the book. Everything is explained. I mean really, everything! The manual tells you how to use the worksheets, how to practice recitation with your kids, etc. The teacher's manual includes the grammar lessons rather than having them written in the student manual. This is good for younger students–it keeps things simple on the student pages. Older students can watch the DVD's and take notes on the grammar lessons, then apply what they've learned on the student pages.
The second half of the spiral bound manual has reproducible quizzes to go with each chapter. (We all know how I love reproducible things. And these are legal to reproduce, it says so right on the page in the book!)
Here are a few glimpses at the pages of the student workbook:
Memoria Press has created a serious Latin course. The course isn't full of bright colors or silly games to learn Latin words. It's hardcore learning as part of a classical curriculum. There is no fluff to be found here. If you want to dig in deep and teach Latin in your homeschool, at a co-op, or even at a private school this curriculum is the perfect choice. It's designed to help students master the language rather than memorize a few words and phrases.
Now I am really excited about including Latin as a regular subject in our homeschool starting this fall! I'm so glad Memoria Press gave us a chance to review their Latin curriculum.
Check out Memoria Press on social media:
Facebook: https://www.facebook.com/memoriapress
Twitter: https://twitter.com/MemoriaPress
Pinterest: https://www.pinterest.com/memoriapress/
Google+: https://plus.google.com/u/0/+Memoriapress1/posts
Instagram: https://instagram.com/memoriapress/