Institute for Excellence in Writing (IEW): A Review
Whew, you all this is a big package of materials to review! Institute for Excellence in Writing sent us the Deluxe Combo Teacher/Student Writing Package Level A [FIX-1 & 2]  and A Word Write Now and Portable Walls. This language arts curriculum is intended for students in grades 3-5.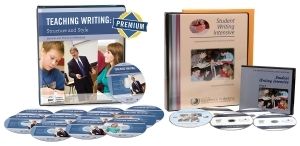 I have heard mention of IEW in various homeschooling circles, but I had never had the chance to look at the materials up close. This is another excellent product that we were very lucky to receive as part of the Schoolhouse Review Crew! I try to only sign up for products I think my kids will like to use in our homeschool, which is why almost every review is nothing but positive. ;)
So, here we go again: Another positive review!
But wait, first….
The only negative aspects of IEW are fairly minor compared to the great things about this program. First of all, the curriculum does require parent involvement. It's not something you can simply toss on the table and then expect your child to get to work.  This isn't necessarily a bad thing, it's just something to consider.
The second "negative" aspect for me was the sheer amount of overwhelming materials and information that poured out of the box as soon as I excitedly ripped it open. Of course this is only a bad thing in the short term! Once you get time to lay out the materials and sort through it all, it becomes apparent that IEW is a very thorough curriculum and that's quite a positive for the program!
Let me start out by breaking down what exactly is in the big package and telling you how we liked it as we used each item during the review period.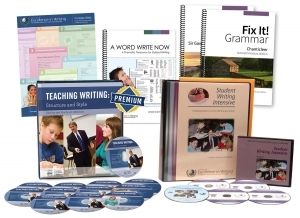 Teaching Writing: Structure & Style DVD set and a Seminar Workbook
The teaching DVD set seemed like the most logical place to start. It's intended for the parent/teacher to view, not the student. The set includes 12 DVD's. TWELVE! (Again, we flash back to my helplessly overwhelmed face…this includes fourteen hours of instruction ya'll.)The good news is these DVD's are pretty much awesome when it comes to stamping out that overwhelmed feeling. The seminar includes both instructions and motivation! The DVD's lay out the basis for the instruction methods IEW uses.The Seminar Workbook is the backbone of well, everything on the DVD's. In order to learn how to write, and how to write well you will need this!  Physically this looks like a tab divided binder with loose leaf papers ready to be inserted.Basically it explains how to write in every possible style, including how to take notes and make outlines which I think is a very important skill homeschooled students may miss out on growing up with only individualized personal instruction.I love logic behind IEW's approach to learning writing. My child (age 8.5) already loves to write.Using this program will definitely give her a huge boost in skills and a firm foundation for the future.  In a way this takes all of the pressure off of me as a parent and a teacher. Here is everything I need, simply laid out for me to present to my child including the why's and how's of teaching the program, and with some encouragement neatly added in!

Note: The Premium package we received to review also included a code that allows you to access a webpage with premium content. This included a streaming version of the 12 DVD seminar so that it can be watched anywhere, at any time. This is amazing considering I am not often able to sit in front of a DVD player and focus. I can watch it here and there as I get time, like while nursing the baby at night.

Student Writing Intensive DVDs Level A
This part is for the student. There are four DVD's. Mr. Andrew Pudewa is the teacher of the program. He has a funny, engaging teaching style that's easy for kids to follow. While the program is fairly no-nonsense and fluff-free, it is not dry and boring! The Student Notebook is put to use at this point as well. That would be a tabbed binder with loose leaf pages ready to be inserted.  The course is designed to be spread out over 30 weeks, which breaks down to one lesson every one or two weeks. Each teacher's lesson plan includes detailed instructions. IEW holds your hand through every single lesson. We shall become better writers together…

Fix-It! Grammar, Books 1 and 2
These books are not a required part of the main IEW writing course, but they are a wonderful addition to the program or they can be used as a stand alone grammar course. The student workbooks can be downloaded from the IEW website and put into a binder for each child. The main point of the grammar books are to have the child learn grammar not by memorizing rules, but by correcting story paragraphs and then rewriting them correctly. The lessons are short and painless.  We loved this grammar curriculum far more than the other two grammar curriculums we have tried previously!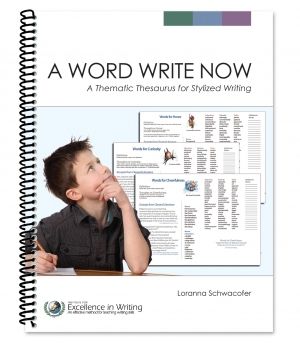 A Word Write Now Otherwise subtitled as A Thematic Thesaurus for Stylized Writing. (That's rather self explanatory, don't you think?)
Avoid overused words such as "eat" or "smiled" or "said" with IEW's amazing, awesome thesaurus! This spiral bound book is organized by category, making it simple to find alternative words quickly.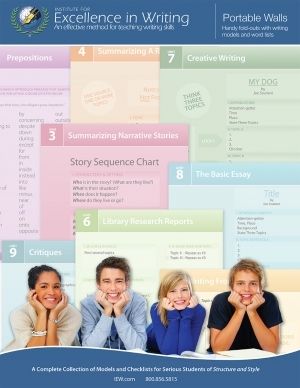 Portable Walls These handy trifold pages are the logical answer to a wall full of classroom posters when you don't live in a classroom. The pages include word lists, synonyms, writing models, and so on, all easily accessed on a tri folded set of pages. Basically, your children will have no excuses for not doing their best on the first try. (Please tell me I am not the only one with a child who pretends to be helpless and confused as an excuse!)  The info is right there in front of each child's face for a mere $7. IEW even made an app for it!
How did we use IEW and what did we think of it?

As a parent I watched the first part of the Teaching Writing DVD's and set up the seminar workbook. I'm hoping to finish watching all of the DVD's over the summer before school starts back up this fall so I can be one step ahead. We'll see if I'm actually able to accomplish that…but I'm looking forward to it! I love that the program comes with so much inspiration and help for the mamas!
Rosie, who is in 3rd grade, used the program for a little more than a month during our review period. We started at the beginning and did the first five lessons, along with the first part of Fix-it Grammar Book 1. We both liked it so much that we're going to use it full time this coming fall when Rosie starts 4th grade work! I feel like IEW is a more robust and thorough program than the separate language arts and grammar courses we have tried in the past. IEW seems very comprehensive in comparison.
In summary, well, I feel like one short review cannot possibly do IEW's materials justice. If you would like your child to become an excellent writer, and if you would like to improve your own writing skills then this is definitely a program you will want to use! It requires some dedication and effort on the part of the parent, however I think it's worth it for the sheer amount of information and knowledge you'll be able to share with your child in return. (Did I mention how thrilled I was to review this product?!)
The Schoolhouse Review Crew members reviewed several different IEW products this time. Click over to the Review Crew's blog post to check out more!

IEW is all over social media!
https://www.facebook.com/excellenceinwriting
https://www.pinterest.com/iewriting
http://vimeo.com/iewtv
https://twitter.com/iew
https://www.youtube.com/user/iewtv
http://iew.com/help-support/blog
https://plus.google.com/+Iewriting/
Of course, the obligatory disclaimer: