WordBuildOnline: A Review
Do you know what a morpheme is?
Believe it or not even after college I still did not know the definition of morpheme. I'm not sure it's a word I'd ever heard before we started our review of WordBuildOnline Foundations Level 1 by Dynamic Literacy. (I guess that shows you the embarrassing holes in my education. I love learning so many new things alongside my kids when homeschooling!)
WordBuildOnline is all about learning morphemes. According to Google, "a morpheme is the smallest grammatical unit in a language. In other words, it is the smallest meaningful unit of a language."
What exactly does that mean for elementary school students? Well a morpheme includes the prefixes and suffixes of words, and the Latin or Greek roots of words. Basically, they are the building blocks of language. The quickest way to build reading comprehension is to learn morphemes!
Rosie and I reviewed WordBuildOnline Foundations Level 1, which focuses on teaching children in 2nd through 4th grade the most important prefixes and suffixes in the English language. Of course it can also be used by older or younger children who are ready to learn or need some help improving their reading skills.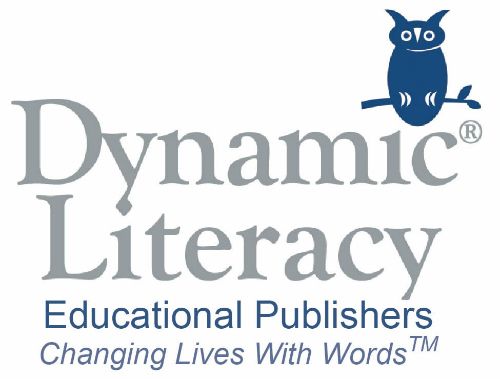 How does the program work?
WordBuildOnline Foundations Level 1 is an entirely online program designed to be completed during one school year. The lessons only take 15 minutes, making them easy to squeeze into a busy schedule.
Every week focuses on a different prefix or suffix. Each day's lesson during the week is different.
On Day 1 students explore the definitions of new words using the prefix or suffix of the week combined with common words they should already know in what the program calls an affix square. Students are instructed to type the definition of the new words and the definitions are saved to their wordlist.  For example, "over" is the first prefix in lesson 1 and some of the words students make and define are overlook, overpass, and overripe.
On Day 2 the lesson uses what WordBuild calls the affix adder. Students click the prefix or suffix then click the word to add them together into a new word. Students then define the word in their own words. Students then choose the sentence in which the word is correctly defined from a list of sentences.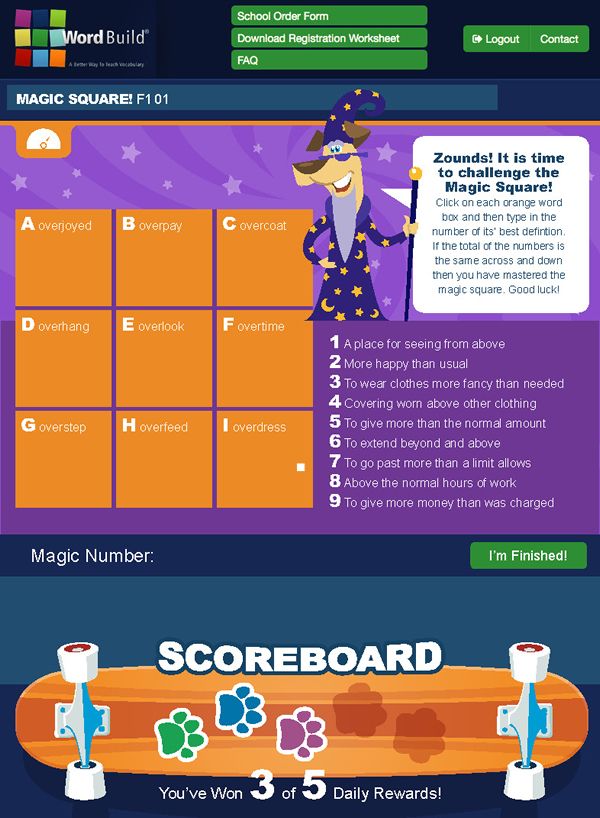 On Day 3 students complete a magic square. Students match the definition to a specific box with the word in it.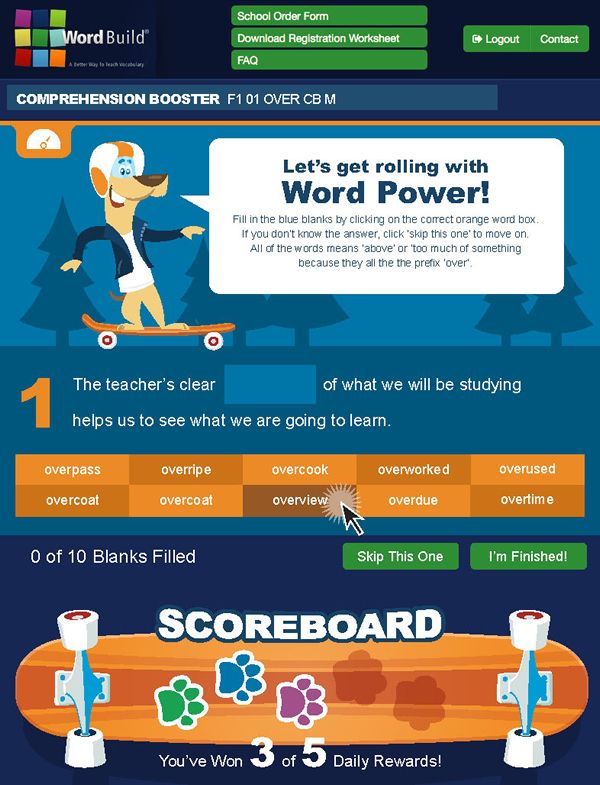 See that skateboard? The pawprints give a visual to the student letting them know how much is left to complete 
On Day 4 students do a comprehension booster where they fill in the blank in a sentence with a correct word from the list.
Finally, on Day 5 students take a short test to assess their understanding of the affix of the week.
Parents are given emails detailing their student's progress in the program.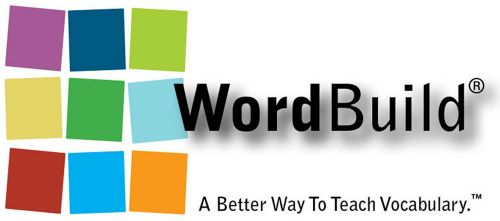 How did we use WordBuildOnline?
Rosie, who is 8.5 year old and in 3rd grade, used the program for about five weeks during the review period. She did the activities daily. Rosie is excellent at reading and writing, they are her strong subjects. I wasn't sure how this program would work for her–would it be too boring?
I was surprised to find that WordBuild challenged her! She needed help with some of the lessons and there was quite a bit for her to learn. We both liked that each lesson was 15 minutes or less! It wasn't something long and hard to slog through, but rather a quick way to squeeze in a little more knowledge.
It often took Rosie only a couple of minutes to complete each lesson rather than 15 minutes. Some lessons were easier than others for her.
The only possible negative aspect to the program is that it's very repetitive–the same activities on the same day each week. For some kids that's probably a good thing, for other kids it might be boring. Rosie was ok with it being that way.
WordBuildOnline is going on our Fall 2015 4th grade curriculum list!
Foundations Level 1 costs $30 per student. If you're interested in buying the program use the coupone code stillness which will give 10% off at wordbuildonline.com and 25% off at dynamichomeschool.com!
The Review Crew also reviewed the WordBuildOnline programs for older children, as well as some of their physical books.
Click the banner to check out the rest of the reviews!

Facebook:
https://www.facebook.com/pages/Dynamic-Literacy/77106927761?ref=hl
Twitter:
https://twitter.com/dynamicliteracy
Pinterest:
https://www.pinterest.com/dynamicliteracy/