Horizons Preschool Curriculum Set: A Review!
Ok, so there were two reasons I wanted to review Horizons Preschool Curriculum Set from Alpha Omega Publications.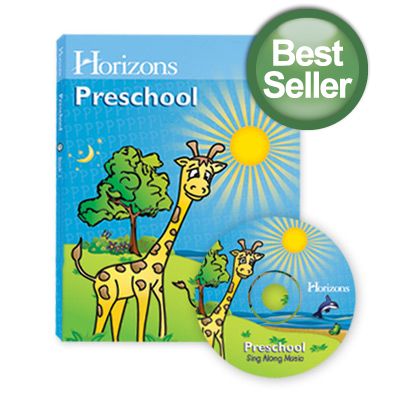 The first reason is somewhat obvious: Ada is five, starting kindergarten in September, and this would be a great review point to see what all she had missed absorbing throughout her preschool years. We haven't done formal preschool learning around our house. I guess you could say we're preschool unschoolers. ;) I believe in preschool learning by osmosis…you'd be surprised how sponge-like these little people are.
The second reason I wanted to review Horizons Preschool Curriculum Set ties neatly into the first reason: I was incredibly curious what all would be included in a complete preschool curriculum. I mean ABC's and 123's aren't that complicated to casually teach a child. Why would we need an actual curriculum? Was there anything I missed? What was the difference between a complete curriculum and a $8 workbook from the store?
Questions. I has them. Always.
Being overly curious has it's advantages and disadvantages. Had I never reviewed this curriculum I would not have been any the wiser to what we have been missing. I was skeptical, I'll admit, but it turns out I kind of like Horizons Preschool Curriculum Set.
Here's what was included in the complete curriculum:
-Two student books with 180 lessons total
-Two teacher's guides
-A music CD
-A resource packet which has looseleaf pages and blackline reproducibles including memory verse cards, alphabet puzzle, and large flashcards.
What I realized when reading the teacher's guide was that they really mean complete curriculum. The subjects included are vast and all encompassing! The teacher's guide gives a complete list of all subjects with a paragraph description detailing each one. Here's the list:
-Bible Reference
-Bible Concept to Present
-Bible Lesson
-Social Studies
-Science
-Language Arts
-Phonics
-Reading
-Writing
-Memory Verses
-Math
-Shapes
-Colors
-Story Time
-Music
-Arts and Crafts
-Physical Education
-Outdoor Activities
-Creative Cooking
-Health and Safety
-Field Trips
-Homework
-Catch Up Time (Built into the schedule every six to eight weeks)
See? They weren't joking when they called this thing a complete curriculum.
The teacher's guide gives two options for scheduling: A half day schedule and a full day schedule. The teacher's guide is wonderfully detailed and lays out every little thing you will need to prepare the classroom and tells you how to prepare for each day's lessons.
Now here's the downside, for us at least: The curriculum is designed to be used with a preschool class or in a private school type of setting. It would be great to use with 3-4 year olds in a home daycare. It's still perfectly applicable for individual use, but there are a lot of classroom references and activities designed for the entire classroom to participate rather than just one child alone.
How did we use Horizons Preschool Curriculum Set at our house?
We found that going from relaxed learning by osmosis to a scheduled preschool plan was quite difficult! Each day's lesson is jam packed with information and activities, and it was a lot for my spirited five year old to try and take in at once. There's also a lot of busy work type activities that we weren't interested in doing. ;)
Instead I decided to pick and choose the lessons that I thought she would get the most out of. There was definitely plenty to choose from!
I started by making Ada a binder with page protectors. I put the resources pages in the back, selecting only the ones I thought would be helpful or interesting to her. (I'm probably going to laminate the big months of the year pages and hang them in our school room as each month arrives for a nice visual.)
Ada was excited to look through her "book" of resources and discuss the pages. Since the pages were well labeled with the lesson number and related subject it was very easy to look up the corresponding lesson to go over with her as she was interested.
I'm impressed the by science subject matter in this curriculum. It covers topics I would have thought to be too confusing for preschoolers, but it does so simply and with clear graphics. Ada loves the science part the best!
One thing I found lacking was phonics instruction. There are letters to trace, but not anything about letter sounds or blends that would move towards pre-reading. I've found it's much easier to teach letter sounds right along with the names of the letters.
I put a page divider in the binder and loaded the front half with the pages from the workbook. The pages are perforated for easy removal, so I tore them out and put them in page protectors also. This way Ada can write on all the pages with dry erase markers. She is a perfectionist and hates erasing or pencil marks left behind after erasing. I've found the best way to avoid this meltdown is to turn everything into a dry erase medium using page protectors! So simple, best solution ever.
In conclusion, this is a very thorough preschool curriculum. It's Christian based and made to use with a small group of preschoolers or for a homeschooled child. Thanks Alpha Omega Publications for the opportunity to review the Horizons Preschool Curriculum Set!
Check out Alpha Omega on social media:
Facebook: https://www.facebook.com/aophomeschooling
Google Plus: https://plus.google.com/+Aophomeschooling/posts
Twitter: https://twitter.com/homeschoolers/
Pinterest: https://www.pinterest.com/aophomeschool/
Instagram: https://instagram.com/aophomeschooling/
Obligatory Disclaimer:
Check out other Alpha Omega product reviews from this round with The Schoolhouse Review Crew!