Tapple & Wonky: A Review of Two Fun Family Games!
This review is purely for fun!
USAopoly sent us two of their games to review.
Wonky: The Crazy Cubes Card Game
and…
Tapple – Fast Word Fun For the Whole Family
I'll start with Wonky first, since it was the first one we opened up and played.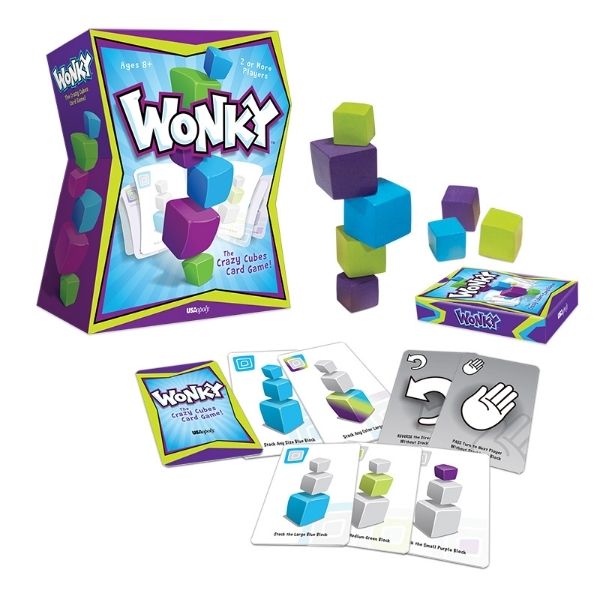 The game is listed for two or more players, and ages 8+. (However, my five year old was able to play it just fine!)  The basic premise of the game is very simple. There is a stack of cards that have directions on them, similar to Uno–reverse, draw two, etc. Each card is also labeled with a block color and size. You must stack the block on your card into the tower of blocks without knocking the tower over.
The kids loved it. It's easy enough that my nine year old could read the directions and play the game with friends, and it's entertaining, and challenging. Definitely a fun one for family game night or for kids to get out and play with their friends!
Here's a video we made of the kids unboxing the game, and then us trying to play it for the first time. Did I ever tell you that everything my small people do is basically just chaos? ;)
Now for Tapple: A bit more intellectually challenging, but also a simple and fun game premise!
The object of the game here is to quickly name a word that begins with the letter of the subject. There is a stack of subject cards and the winner of each round gets to keep the card. Whoever gets three cards wins the game.
I love that there are two options for the subjects: Each card has two sides, one side has easier subjects for younger kids, and the other side is geared towards older kids or adults.
Easy side is pictured here.
This game is for multiple players and for kids 8+. My five year old was able to play with a little help. This is actually a great learning game for kids. It requires knowledge of phonics/spelling as well as categorizing subjects. It seems like a great way to get your brain awake and thinking. We might play this game in the morning before starting schoolwork.
Tapple would also be a lot of fun at a party, or played with a group of adults.
The only thing we didn't like about Tapple was the loudness of the timer! After a couple rounds we were wishing it had a volume to turn down. The game requires a screwdriver to open the back and two AA batteries to turn on the timer, by the way.
Here are a few videos of my crazy crew unboxing Tapple and learning to play! Ada, my five year old, had been looking forward to playing this one for weeks. She was so excited to finally open it.
Tapple and Wonky would make fun Christmas gifts for the family. We'd recommend them for both adults and kids! We'll definitely be playing them again and again at our house.
Want to see reviews from other members of the crew? There are lots! Click the banner below to check them out.

Obligatory Disclaimer…
Find USAopoly on social media:
Twitter: https://twitter.com/USAopoly
Instagram: https://instagram.com/usaopoly/
Facebook: https://www.facebook.com/usaopoly
Pinterest: https://www.pinterest.com/usaopoly/