Middlebury Interactive Languages: A Review of Elementary Spanish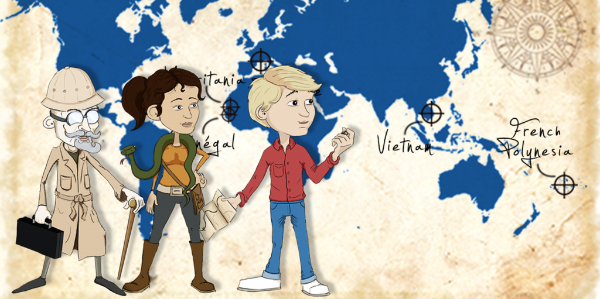 I love foreign languages, but I have had trouble finding a language program that is both practical and in depth. Something that goes beyond memorizing phrases and teaches you how to actually understand the language, yet in an attainable way that doesn't require confusing and dry bookwork.
I'm always excited to try language programs just in case I come across one that meets my criteria…

The same criteria goes for my children and a language program I would use with them, so I was excited to review Spanish (Grades 3-5) from Middlebury Interactive Languages with Rosie. The course is all online, so it requires internet access, as well as a microphone for recording yourself practicing pronunciation.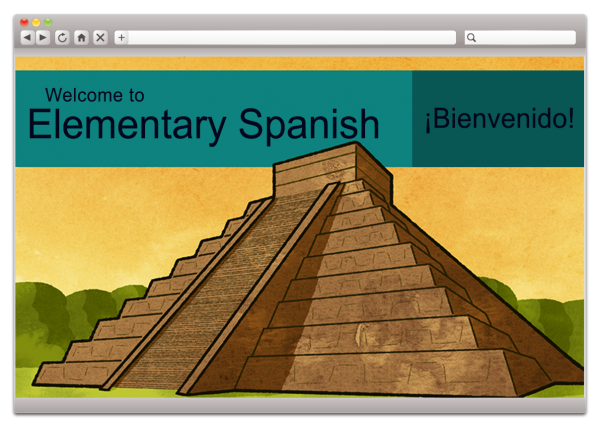 When I first logged into the main page to begin the course with Rosie I wasn't sure exactly what to expect. It looked rather stark and no nonsense. I thought it might be clunky and outdated.
Once we actually began the course, however, I was pleasantly surprised!
The lessons are broken down into simple, short slides that are easy for kids to navigate on their own. Everything is colorful, intuitive to use, and ran very smoothly on my MacBook Pro with the Chrome browser. Even my two year old was enraptured with everything. He can barely speak English, but he loved trying to repeat Spanish words.
One of my favorite things about this course was the immersion into the language. Each lesson has a culturally authentic story to go with it, presented fully in the language of the course. Children are encouraged to listen for vocabulary words they recognize in the story from the very first lesson without worrying that they don't understand every word.
This is an awesome way to truly learn a language. Each time I've been faced with communication problems between myself and someone else not speaking English that is exactly what I do–look for words I understand so that I can piece together some semblance of communication and understanding! Without practice it's very easy to just get overwhelmed by the rush of unfamiliar words and never even realize you're able to pick out words and phrases and understand them.
Parents have access to PDF files of the translated stories so that they can be reviewed with kids before or after watching if desired. Middlebury really has succeeded in creating a stress free language learning program. Parents also have access to a gradebook so they can see exactly what their child got right or wrong on the quizzes, which is nice for when they're working on their own.
Another thing I appreciated about this course was that the stories are read by native speakers, which again gives children practice understanding the language in an everyday setting. Not with canned phrases repeated on tape, but with actual cultural history, in context. It really gives kids a chance to become familiar with the rhythms of the Spanish language. The program even has quizzes and lessons where you are instructed to speak words into the microphone and then listen back to your recorded voice in order to assess your pronunciation.
There are 45 lessons per semester in the 3-5th grade level of Spanish. The suggested pacing is to use the program about three days a week. Honestly we weren't sure when to stop each day, so I encouraged Rosie to do as much as she was interested in. We definitely plan to continue using the rest of the sixth month membership we were given for the review!
I am honestly very impressed by the quality of this language program. They have foreign language for high school grades as well and when it comes time for transcripts and high school credits I will definitely be coming back to Middlebury Interactive Languages for Rosie. I noticed they also have a program for students to learn English. Taking note of that for any future adopted children!
Middelbury Interactive Languages programs fit in perfectly with a Charlotte Mason curriculum based on living books. Living language immersion!
You have two options when purchasing Elementary Spanish Grades 3-5: with a teacher, or without. For the review we did not have a teacher. Since the program requires no prior knowledge of the language I didn't feel like we were missing out on anything. The teacher option seems like it might be very helpful for older grades though.
Final thoughts on this program? It's definitely one of my favorite language programs out of all the methods I've tried. If you're on the hunt for a good elementary school foreign language program that actually teaches you and your kids to understand the language then check it out!
The Review Crew reviewed the other language courses Middlebury Interactive Languages has to offer as well. Click on the banner to see the reviews of other grades of Spanish, plus various levels of German, Chinese, and French courses.

Middlebury Interactive Languages on Social Media:
Twitter  https://twitter.com/MiddInteractive
Instagram https://instagram.com/languageacademy/
Facebook https://www.facebook.com/pages/Middlebury-Interactive-Languages/141015515949753
Pinterest https://www.pinterest.com/middinteractive/
Google + https://plus.google.com/b/110371351490550861545/110371351490550861545/posts