Koru Naturals: A Review of Three Lovely Beauty Products!
Occasionally the Review Crew gives us products to review that are specifically for the mamas rather than curriculum for kids. This review is about Koru Naturals products, which were definitely fun for the mamas! I was excited to review these.
Koru Naturals sent me three things: Skin Clear Cream, Manuka Honey Propolis Soap, and Argan Oil and Sandalwood Hair Tonic.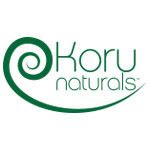 Ada helped me open our exciting package when it came in the mail.
To read about the meaning of the word Koru and the basis of the Koru Naturals company click here.
Where should I start with these products? 
Let's discuss the Skin Clear Cream first!
The Skin Clear Cream is part of Koru Naturals NZ Fusion Botanicals line. It has no parabens, artificial colors, or fragrances. It contains: raw, unpasteurized Manuka Honey; Manuka oil; Kawakawa and Harakeke (traditional Maori remedies); Burdock root; Thyme; and Canadian Aspen Bark.
Koru Naturals says the cream is intended for two purposes: To improve acne prone skin, or as a basic day and night cream for healthy skin. It restores balance, heals damaged skin, and improves elasticity.
When we first opened it we were surprised at the texture. It was very soft, almost like mayonnaise. Other members of the Crew have commented that their cream was more liquidy. It seems to be based on the temperature of your location, similar to the way coconut oil goes from solid to liquid easily.
Rosie says that the consistency was similar to hummus, except very smooth.
Ada and I thought it smelled wonderful!
How did it do on our skin?
Let me just say this: A little goes a long way. ;)
I used this on my face and loved it. I've been struggling with pimples on my forehead. This made the pimples better, not worse! It also helped a dry area of skin on the sides of my nose without causing anymore pimples.
Final verdict: LOVE IT. (Especially the way it makes my face smell…)
What about the Argan Oil and Sandalwood Hair Tonic?
This is an oil intended to help frizzy hair.
If you don't know me in person, I have to tell you: My hair type is basically that of Merida in Disney's movie Brave.
Big, reddish, and with an entire life force of its own.
Humidity makes my hair very excited. So excited that each strand stands up all by itself!
Good things about this product are that it's in a handy pump container, it does indeed tame frizz, and it smells very earthy and wonderful.
Only negative is that it is an oil, and it can make your hair look greasy if you don't use it very sparingly! That's not so much a negative aspect as it is a word of caution. Like the Skin Clear Cream a tiny bit goes a long way.
Here are the ingredients: Vitis Vinifera (Grape) Seed Oil, Argania Spinosa (Argan) Oil*, Santalum Spicatum (Australian Sandalwood) Oil,* Helichrysum (Helichrysum) Essential Oil*, Citrus Bergamia (Bergamot) Essential Oil, Citrus Paradisi (Pink Grapefruit) Essential Oil.*organic ingredient
If your hair is damaged and dried out then this will certainly help heal it and restore shine. Plus you'll smell great while using it.
Now for my very favorite product out of the three–I saved the best for last! 
The Manuka Honey Propolis Soap!
This soap is so soft. So smooth. I absolutely loved it and will buy more when it runs out.
The bar of soap has two sides. One is more clear honey colored, and the other is solid colored. The bar is large sized, bigger than the palm of my hand and thick.
I tend to have dry skin on my body and this soap left me feeling very clean and soft all over. I used it on my toddler also. It's lovely.
The soap also worked great on my face. It left greasy forehead skin feeling clean and smooth without drying it out. Perfect! It also smells wonderful.
The gentle ingredients are also safe for animals, as my wonderful five year old proved when she tested it on our guinea pigs in my bathroom. It leaves guinea pig fur very soft and sweet smelling, just FYI.
Every time I take a shower I get excited to use this soap. It's affordable too–only $7.90 for a bar that will last a long time. Koru Naturals has free shipping when you spend more than $35.
Here is another wonderful review video from my children detailing the soap and the skin clear cream:
In summary? Koru Naturals is definitely worth checking out if you are looking for natural, healing beauty products. Especially the soap. Did I mention that I am obsessed with this soap?
Other members of the Review Crew reviewed some different products from Koru Naturals. You can see their reviews by clicking the banner below.

Koru Naturals on Social Media: 
Facebook: https://www.facebook.com/korunaturals
Pinterest: https://www.pinterest.com/korunaturals/
This is an outtake video of sorts. Rosie unfiltered. (And for the record the Skin Clear Cream is absolutely nothing like baby poop…)