Rabbits Rabbits Everywhere, A Fibonacci Tale: Book Review!
This week we have two reviews to share. The first one is the book Rabbit Rabbits Everywhere: A Fibonacci Tale written by Ann McCallum and illustrated by Gideon Kendall. The publisher is Ann McCallum Books.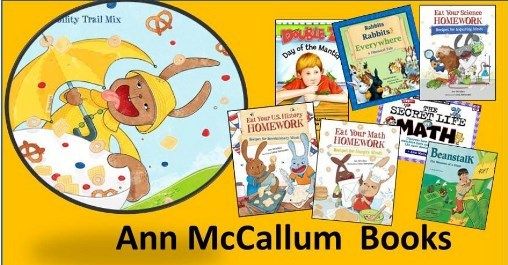 We were sent a physical copy of this book for the review. This is a 32 page long softcover book with very nice full color illustrations.
Rabbits Rabbits Everywhere tells the tale of a town called Chee. Coincidentally this is where the Pied Piper, from the fairy tale about the rats of Hamelin, happens to live. The Pied Piper offends the wizard on the hill in Chee, causing him to curse the town with rapidly multiplying rabbits.
The rabbits are eating up the town's gardens and all of the people will starve if the problem is not quickly solved! The villagers can't eat the rabbits because they are enchanted. The Pied Piper can't seem to lead the rabbits out of town with a song like he did to the rats of Hamelin.
The main character of the story, a little girl named Amanda, notices a pattern to the way the rabbits multiply. Once she visits the wizard on the hill and tells him she knows his pattern he tells her to play the pattern in a song. Sure enough that causes the rabbits to follow her right down the road out of town and away from the gardens!
The pattern Amanda finds is the Fibonacci sequence. The book nicely details how the sequence works in a clear, memorable story kids can understand.
I read this book with my kids and we hung a picture of the Fibonacci sequence on the wall in our homeschool room. This ties in nicely to the Da Vinci studies we're doing and relates to patterns found in nature. The book also gives tips at the end of the story telling kids where to look to find examples of the Fibonacci sequence in nature!
Even my two year old enjoyed this book with its lovely illustrations.
This has been another review product that we've enjoyed! Rabbits Rabbits Everywhere is an entertaining literary story as well as a nice addition to our math work. We'd definitely recommend it.
Other CREW reviewers read this book as well as a few other Ann McCallum books. Check out their reviews by clicking the banner below!