Grapevine Studies Resurrection: A Review
Hey, it's another review! This one is for a Bible study.

You might remember last semester when
we reviewed Grapevine's Old Testament curriculum.
The kids really enjoyed it, so I was happy to be offered a chance to review another one of
Grapevine Studies
' curriculums for elementary aged students! This time around we received
Resurrection: Multi-Level
to review. (This included the easier version with traceable figures for younger kids and the version with space for older kids to draw their own figures.)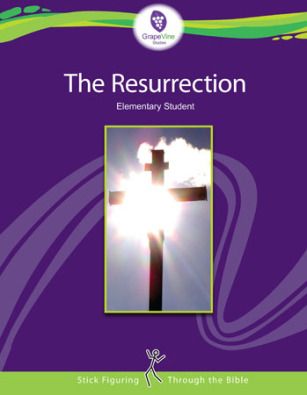 Very timely for Easter! We do the typical American cultural Easter celebration, but we also learn about the Christian history behind the holiday.  I know some people feel that the cultural celebration takes away from the religious one, but I see them as two separate things and we definitely celebrate both the remembrance of Jesus' death and resurrection and the symbolic return of spring and rebirth of all the lovely growing things on the earth in this season. Spring is my favorite season of all!
We have read through the death and resurrection part of the New Testament several times in the past, but I've noticed that kids pick up on different aspects each time we go through it. I think it's because they notice different things as they age and mature. I enjoy sharing these stories with them each season and watching them grow and learn.
So, all of that being said, let me tell you what exactly Grapevine's Resurrection Bible study is!
The Resurrection study goes through The Last Supper, the Crucifixion, Death, Resurrection, and Ascension.
The study can be done in two ways. Either 11 lessons that are 40 minutes each once a week, or 40 daily lessons that are about 15 minutes per day.
With younger kids and shorter attention spans we prefer the 40 daily lessons!
Each lesson is fairly simple to present to children using the included Teacher's Guide. You need pages printed out for each child in a binder, colored pencils, and a Bible. Simply read the related Bible verses/story and then follow the instructions on the print-outs to draw stick figures relating to the story.
It's easy, and it's genius because kids enjoy drawing the story–this is a form of written narration that we do with our Charlotte Mason curriculum. It really helps the kids to remember what they have learned by retelling the story in drawings!  Retelling the story, or narrating it, helps kids make the story their own and forever cements it into their knowledge banks.
At first I scoffed at the idea of stick figures–surely we can do better than that! Why set the bar so low?
Once we started using the first Grapevine Study last semester I quickly realized that the stick figures actually worked out very well–there's no pressure for kids to make a detailed picture. Perfectionist children don't get upset because they can't draw a masterpiece. It's just a stick figure representation, and it definitely serves its purpose of written narration very well.
I think this would also make an excellent curriculum for a Sunday School class, a children's Bible Study, or a co-op class in addition to using it at home with family.
What do we think of Grapevine?
Our family loves Grapevine's Bible studies! They make the Bible easily presentable to families, and our kids enjoy every lesson. Seriously!
This is another curriculum that wins the Amos Family Seal of Approval–it's simple, requires very little teacher prep, contains real in-depth knowledge instead of fluff or busy work, fits into Charlotte Mason's ideas, and…it's fun!
I don't feel like I'm brainwashing my kids in mindless religion or telling them what to think with these studies. Instead we're reading together, discussing, and sharing our ideas about the meaning of the stories, which is exactly what I think they need to do in order to develop strong faith that is their own.
To read other reviews of the Resurrection curriculum or Grapevine's New Testament: Birth of John to the Apostles curriculum click on the banner below!

Obligatory Disclaimer…
Visit Grapevine Studies on social media:
Facebook: https://www.facebook.com/GrapevineStudies/
Twitter: https://twitter.com/GrapevineStudy
Pinterest: https://pinterest.com/GrapevineStudy