Rainforest Journey: A Science Curriculum Review!
Well guys, I'm reviewing a lot of stuff lately with TOS Review Crew. Whew!
Today's review is for a science program that's completely online called Rainforest Journey. It's from the company EdTechLens. It's life science curriculum with 34 lessons. The lessons include videos, audio, and writing, along with large color photos. There's also a review with each lesson, along with assessments.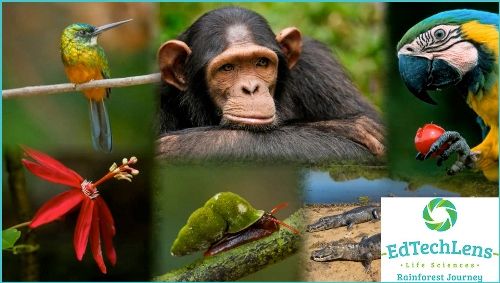 Rainforest Journey is for grades K-5th. There are separate levels for each grade. Ada, age five, and I reviewed the kindergarten level. The curriculum can be accessed on any device with the internet. We used Chrome browser on the MacBook Pro.
The program isn't a complete science curriculum. It's considered enrichment. The course costs $50 per grade level, and they offer a 50% discount if you want to purchase two student accounts for the same grade level.
When Ada and I first sat down to use the curriculum we weren't sure exactly what to expect. I opened the website, logged in, and went to the first lesson.
We were both quite surprised at how simple it was. The lesson consisted of a few sentences, which could be read aloud by the teacher (me!) or read aloud by the button on the page. There were two large color photographs relating to the two bits of text.
That was it! It took about three minutes for us to look at the first lesson, so we moved on to the second and the third which were basically the same. A few lessons have short, simple videos on the pages instead of a picture.
Here are a couple screen shots of the first lesson:
The reviews are very simple as well. The pages are printable and ask the child to draw a picture, answer a short question, or fill in the blank.
There are five units with two to five lessons each, for a total of 34 lessons. The kindergarten lessons are so simple that a child can do three or four at once depending on attention span! There are a few hands on lessons mixed in as well, but not many.
What did we think of this curriculum?
It's very much like a textbook on a webpage. If you're looking for very straightforward text book science with school-like assessments then this would be a great program for you! I will say that EdTechLens has great customer service, and as a company they are very responsive to emails with a personal touch.
For us though? We homeschool to avoid textbooks since we do Charlotte Mason style learning, so this program wasn't quite our thing. I felt like it would be great for a classroom setting at school to use with a group of children on a smart board.
Ada was definitely interested in the rainforest information. All three of my kids loved looking at the large color photographs of different animals included in each lesson! This sparked their interest in rainforest life and made them want to look up more about the way animals live in the rainforest and what types of other creatures are there also.
Overall, Rainforest Journey is a very school-like program. It lays out bits of information, then assesses if the student can report the information back.
To check out other reviews of this same program from various levels click on the banner below! 

Obligatory Disclaimer…
Check out EdTechLens on Social Media!
Twitter:
https://twitter.com/edtechlens
Facebook:
https://www.facebook.com/edtechlens
Pinterest:
https://www.pinterest.com/edtechlens/
Google +:
https://plus.google.com/+Edtechlens
LinkedIn:
https://www.linkedin.com/company/edtechlens