Times Tales from The Trigger Memory Co.: A Math Review!
Our latest item for review is Times Tales from The Trigger Memory Co.

We've been using the physical version of Times Tales that a friend gave us a couple of years ago in our homeschool and loving it, but we'd never seen the video version until The Trigger Memory Co. offered it to us for review!
For the review we were given a digital download, which included the videos as two mp4 files, printable flashcards, plus a few worksheets including a crossword puzzle. There were 3 pdf files of printables in total.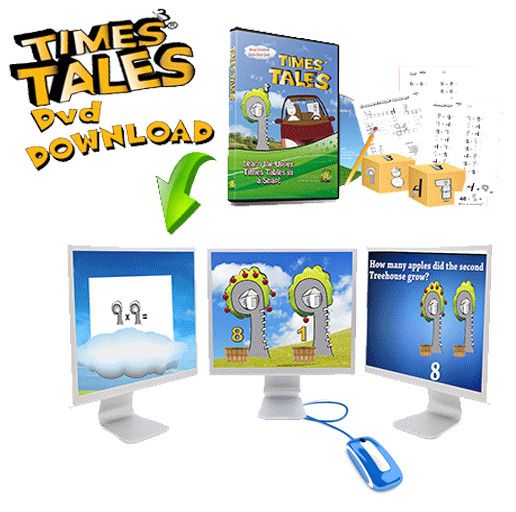 What is Times Tales?
If you've never heard of it, Times Tales is a sweet and simple program that teaches kids how to memorize the upper times tables using visual memory triggers.
Each number is assigned a cartoon figure. For example the number 4 is a chair because chair cartoons are 4 shaped. The number 8 is a snowman. The number three is a butterfly because the wing looks like a 3.
Times Tales makes up little stories to go along with each multiplication problem. Mrs. Week (a number 7) caught twenty butterflies in her net and one landed on her head. 7 (Mrs. Week) times 3 (butterfly wings) equals twenty and one butterflies. 7×3=21.
Mrs. Snowman (a number 8) wanted to reach her three buttons and two mittens up on a shelf by standing on a chair (the number 4). 8×4=32
The videos are broken down into Part 1 and Part 2. Part 1 is the Upper 3's and 4's multiplication facts. Part 2 covers the 6's, 7's, 8's, and 9's. First children memorize the characters and what their numbers mean. Then the stories begin!
The times tables covered are:
3×6, 3×7, 3×8, 3×9, 4×6, 4×7, 4×8, 4×9, 6×6, 6×7, 6×8, 6×9,
7×7, 7×8, 7×9, 8×8, 8×9, 9×9
At the end of the program the final part is the division challenge. This seems so simple after memorizing all of the stories! They simple ask you which part of the number story is missing from the multiplication problem and introduce the division sign.
What I've found is that this program works GREAT for kids who are visual learners like Rosie and me. I can learn anything if I can see a clear picture of it, and Rosie is the same way. Times Tales gives a great visualization to each multiplication fact which makes memorizing them so easy!
For kids who aren't visual learners this program may just add confusion. My husband is a very auditory learner and he couldn't make any sense of how Times Tales could help him remember multiplication facts. He was so confused and asked why we wouldn't just name the multiplication problems and then remember hearing them. ;)
What did we think of the program?
While Rosie, my nine year old, loved the printed version of Times Tales, she was somewhat iffy about the videos. The videos animate the stories along with someone talking to tell the story. Rosie said it was more confusing to figure out the problems from the videos rather than just looking at the printed pictures and flash cards. However, my two year old and five year old loved the videos. The videos got their attention and they came over to watch, and they kept watching!
If your child needs help memorizing times tables and learns visually then this program will definitely be something your family could benefit from! We will continue using Times Tales with our kids as a bonus way to learn multiplication, along with our other in depth math curriculum.
Want to read more reviews on Times Tales? Click the banner below!

Obligatory Disclaimer…
Find The Trigger Memory Co. on Facebook!