Apologia Writers in Residence: A Language Arts Curriculum Review!

Rosie was given a lovely spiral bound book called Writers in Residence from Apologia Educational Ministries for review! This is a complete language arts curriculum. It takes you through the entire writing process piece by piece, and it also throws in grammar skills!
We received two things.
The student workbook, which contains both the information and the work pages. This book is a large spiral bound book with heavy weight paper. It's high quality and the pages are meant to be flipped through many times without ripping!
The answer key! The answer key was much smaller than the spiral bound student book. It contains answer rubrics, grading tips, and directions for all of the lessons.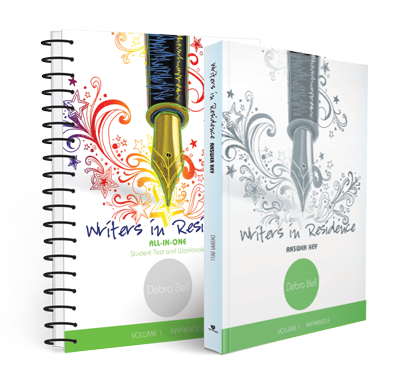 Who is Writers in Residence for?
This is a writing program written in a unique conversational tone intended for kids in grades 4 through 8. The program is Christian based, as Apologia is a Christian company.
The unique thing about this program is that it contains author interviews. Rosie and I really enjoyed this aspect! The author interviews and comments are very candid, telling how the author learned to write and how they eventually became successful authors.
Rosie desperately wants to write books that are published, but frequently becomes discouraged when she realizes she can't just write something down an immediately have it appear on a shelf in a bookstore. Reading famous authors explain the long road to success and being honest about their struggles has been very good for her, as well as encouraging when she gets frustrated with the writing process!
I also got a lot from the author interviews in this curriculum. These people weren't amazing writers as kids. They are just average people who worked hard to get where they are. It made me feel a bit better about homeschooling–I don't need to push my kids to the brink of insanity trying to force them into being the very best writers right this second. The can be successful as adults if they decide to become authors, even if they would rather dig outside in the dirt during childhood. ;)
The author interviews helped me realize that making amazing memories and gaining experiences are as much of an important part of the writing process as simply learning to write. I had never considered it from quite this perspective before. When we're hiking, exploring the thrift store, playing at the beach, or observing people and animals at the zoo we're building memories and new ideas that can become writing material later on.
The writing process in this curriculum is laid out very plainly. It's painless for kids who aren't really into writing or for kids who are easily frustrated and overwhelmed.
The curriculum simply starts out by asking kids to brainstorm, and it goes from there. The conversational tone of the curriculum is pleasant and non-threatening. It is very much *not* a boring text book curriculum!
We did the beginning of this curriculum for the review period, and we liked it. I'm planning on getting it back out again this fall to work through the whole thing as our fifth grade language arts curriculum.
If you'd like to read other reviews of Writers in Residence from The Crew then just click on the banner below!

Obligatory Disclaimer…
Find Apologia on social media!
Facebook: http://www.facebook.com/apologiaworld
Twitter:  http://www.twitter.com/apologiaworld
Pinterest: https://www.pinterest.com/apologia/
Instagram: http://www.instagram.com/apologia