Kwik Stix: A Mess-Free Paint Review!

Kwik Stix (made by The Pencil Grip, Inc.) were a super fun product to review!
What are they?
Paint!
Anyone who has ever been around kids knows two things.
They love to paint. (Love may not be a strong enough word for the way my littles feel about painting, especially my two year old…)
Painting is messy and sometimes stressful for the adult in charge. Paint gets EVERYWHERE each time my kids get near it. Doesn't matter what kind of paint it is, if it can be flicked in droplets off of a brush it will be. If it can be smeared, it will happen. And if there are glasses of water for rinsing brushes? Let's be honest, they will be spilled.
Kwik Stix are a bit different, however. At first I only signed up to review these because I know how much my kids love painting. I didn't pay close attention to exactly what this product was supposed to do.
When it arrived in the mail we excitedly opened the box and pulled out a lovely set of paint tubes. There are 12 colors in, including black and white.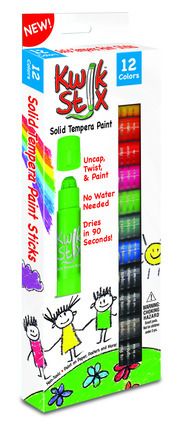 The tubes are about the size of a glue stick.
I'm not sure what I was expecting, but when the kids ripped off all the lids we found solid tempera paints.
Yes, solid!
It's sort of the texture of make-up, like a tube of concealer or foundation, or even similar to lipstick.
Interesting. I had never seen solid tempera paint before.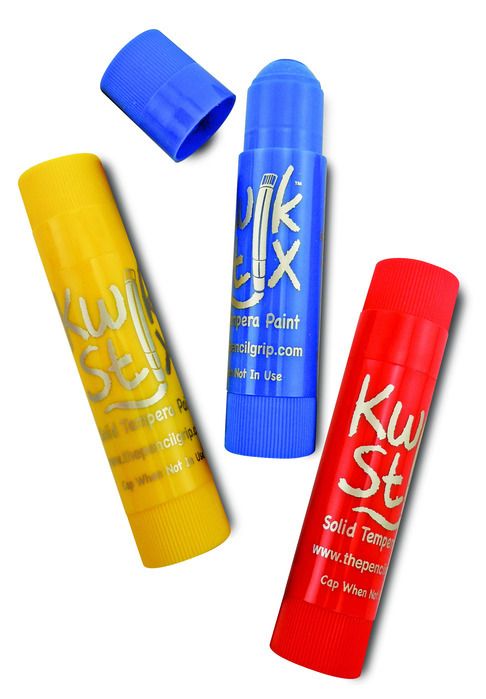 How does it work?
Great! It's pretty amazing for budding artists. The paint doesn't blend easily to make different shades, but it does paint thoroughly and the kids love it.
My favorite part? THE PAINT DRIES IN 90 SECONDS.
That right there is a game changer. How many times have we battled with "masterpieces" created by small children that are thick with wet paint, floppy paper, trying to find somewhere for it to dry before they stick it to their own shirts or knock it face down into the floor?!
Not a problem with Kwik Stix.
Win.
Oh and you know what else? It cleans up with just water. I got paint on my finger and simply rinsed it off. It wiped right off of the toddler with a baby wipe. I didn't even have to use the water hose to pressure wash it off.
So yeah, Kwik Stix are pretty awesome for little kids who like to paint and for their adults who hate to battle with huge painty messes. Definitely a winning product. Definitely something that can be used stress free with a group of kids too!
(Side note: I had planned to include pictures of our finished masterpieces as well as a video review, but as I am suffering from some sort of viral plague that has yet to get uploaded and published. If you're interested, check back soon because I will edit the post to at least add pictures of our artwork!)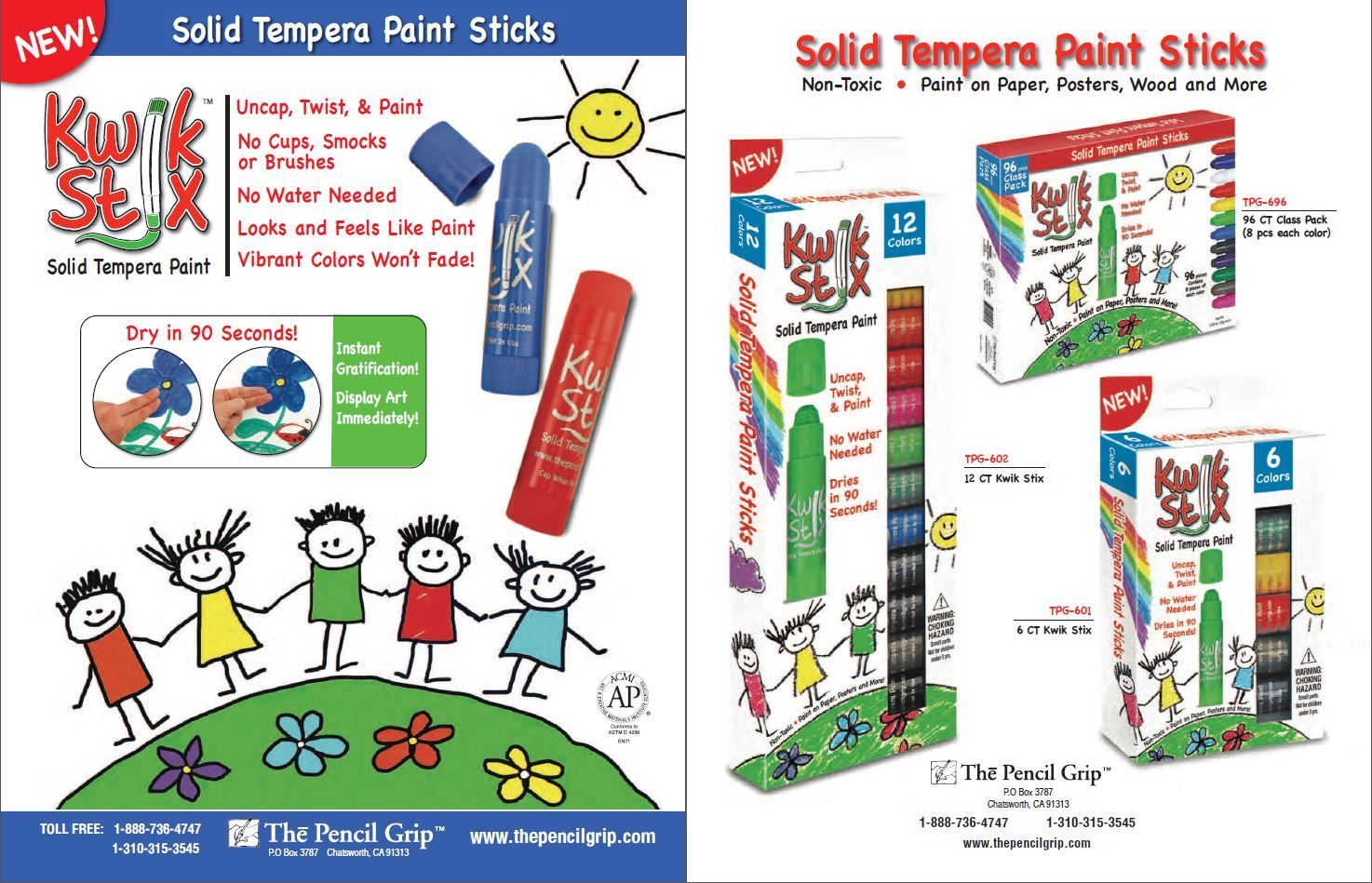 Bonus: The Pencil Grip, Inc. also sent us one of their famous pencil grips! We had actually used one of these in the past, when Rosie was first learning to write. She really struggled with holding the pencil properly. I mean she didn't just hold it funny, she held it downright weird and wrong. It was not going to be conducive to proper and speedy handwriting in the future.
Someone recommended one of these pencil grips to us and I immediately went to our local parent teacher store and bought one. (This is how much times have changed in the past ten years! Amazon wasn't a huge thing and we didn't just get everything with Prime like we do now…I had to actually take my rear end to the store and purchase the thing.)
The pencil grip worked GREAT. Rosie of course hated it and kept "losing" it, but they are cheap so I bought a handful of them. ;) I'm happy to say at age 9.75 she can now write fairly neatly while holding the pencil normally. We only needed the grip from about ages 5-6.5.
Check out other reviews here!

Obligatory Disclaimer…
Find The Pencil Grip, Inc. on social media!
Website:  http://www.thepencilgrip.com
Facebook:  https://www.facebook.com/thepencilgrip
Pinterest:   : https://www.pinterest.com/KwikStixPaint/
Twitter:  https://twitter.com/ThePencilGrip @ThePencilGrip