Linguistic Development Through Poetry Memorization: An IEW Review!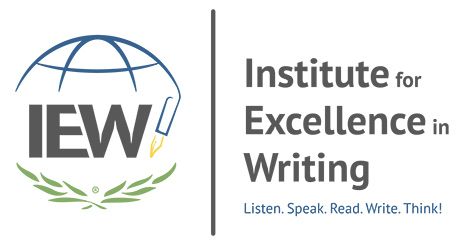 Hey, hey…another review of an Institute for Excellence in Writing product!
This time we received Linguistic Development Through Poetry Memorization. It included a physical copy of the teacher's guide, the PDF student book, poetry CD set, a DVD of Andrew Pudewa's conference talk on Nurturing Competent Communicators, and seven audio mp3 downloads.
Whew. IEW is never lacking in quality materials, that's for sure!
IEW was also generous enough to include a bonus spiral bound, soft cover physical copy of the student book for Review Crew members. (This is sold separately from the set, as the set only includes a PDF of the student book.)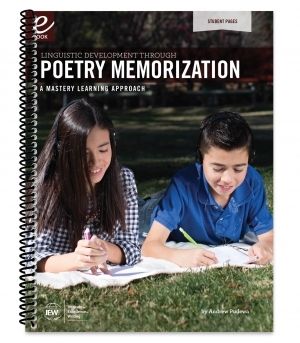 As part of our Charlotte Mason style learning we value poetry quite a bit around here! We love to do tea time poetry, where we have drinks and a treat while sharing poems. But sometimes I feel as if just reading the poems isn't enough–the kids tend to gloss over them without actually soaking in all of the goodness.
That's where I was hoping IEW's poetry memorization curriculum might fill in the gaps. And I was right!
I LOVE IT.
The CD set comes in a lovely leather looking album. The CD's include all of the 96 poems and speeches read aloud clearly and dramatically to help kids memorize them easier. They're fun to listen to, more fun that Mama muddling through a book and trying to keep their attention. ;)
The curriculum goes beyond poetry memorization–there are also biographies of the poets, charts, and reward certificates.
While some of the IEW products we've tried in the past have admittedly been overwhelmingly large amounts of material to teach, this curriculum is not. It's very straightforward and enjoyable while still being wonderfully in depth.
The Teacher's Manual contains the following:
Introduction
Prerequisites for Effective Communication
Why Memorization?
Why Poetry
Mastery Learning-What is it?
How This Program is Set Up
How to Teach the Program
Level One: Poems
Level Two: Poems
Level Three: Poems
Level Four: Poems
Level Five: Speeches
Appendix 1: Biographies
Appendix 2: Bibliography
Appendix 3: Optional Lesson Enhancements
As the parent/teacher you do need to spend some time reading through the teacher's manual, listening to the mp3's, and checking out the DVD of Andrew Pudewa's conference talk on Nurturing Competent Communicators prior to beginning the curriculum in order to get the most out of it.
I will be honest and say this is difficult for me. I have trouble finding time to study the curriculum before just jumping in and using it. However I do like that IEW always has such thorough materials to prepare parents on how to educate their children to the absolute highest possible standards.
These are the included mp3's:
Nurturing Competent Communicators
On Listening
On Speaking
On Reading
On Writing
Mastery Learning, Ability Development, and Individualized Education
Ten Thousand Times and Then Begins Understanding
Why should you care about poetry memorization for your children?
Long story short: Poetry memorization helps their brains grow.
Literally, physically.
Poems are a beautiful part of our culture, they teach history, storytelling, rich vocabulary, enhance imagination, expose them to complex sentence structures, and help children develop into excellent writers by packing their brains full of goodness.
While all of that is occurring the connections in the brain are actually growing, forming new connections and expanding, and your child is becoming more intelligent.
Pretty amazing, isn't it?
Below is a video from IEW explaining this very thing.
Since my lovely hellions children tend to shy away from forced poetry memorization I've decided to take a casual approach here. A sneaky approach, if you will.
These CD's are wonderful to play in the car! They're also great to play while coloring in adult coloring books. I recite the poems to my littlest one while he's sitting on the potty and he loves it.
Basically, the wealth of poetry and speeches on these discs and printed in the student book is very fluid–there are many ways you can utilize it to bring rich literature into your home and into the brains of your children.
How awesome is that?
To read more reviews of Linguistic Development Through Poetry Memorization from the crew click the banner below!

Obligatory Disclaimer…
Find IEW on Social Media:
Facebook:  https://www.facebook.com/excellenceinwriting
Twitter:  https://twitter.com/iew  @IEW
Pinterest:  https://www.pinterest.com/iewriting
YouTube:  https://www.youtube.com/user/iewtv