D'Aulaires Greek Myths Set: A Review from Memoria Press!

It's another review in line with Charlotte Mason's principles, somewhat at least. ;) It definitely applies to classical learning. This time around we received D'Aulaire's Greek Myth Set from Memoria Press.
The D'Aulaire's Book of Greek Myths Set is for grades 3-6 and includes a student book, a teacher book, and flashcards.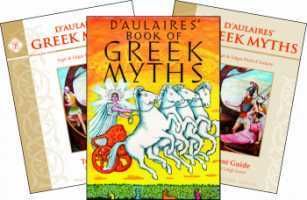 We absolutely adore all of the books written by the D'Aulaires! They have gorgeous full color illustrations and do an excellent job of bringing the biographies and myths to life.
My kids love the greek myths. The book starts at the very beginning with Gaia and Uranus, Mother Earth and Father Sky. Then each story is told one by one in order.
We had read most of the Greek Myths by the D'Aulaires already as part of our homeschool lessons last year, however I was interested to see what Memoria Press had to offer as far as studies were concerned.
The student book contains a vocabulary words and questions for each story. There are 30 lessons in total. The book also includes ways that Greek Myths relate to the modern world, as well as some picture studies and activities.
We found that the student guide added some valuable discussion points to follow our Charlotte Mason style narration. I especially liked the vocabulary list and vocab sentences! My nine year old is very good at reading and writing, but it was helpful to specifically discuss some of the larger words in the stories. Rich vocabulary for the win!
The teacher's guide mirrors the student guide, except it includes the answers to everything in the student guide along with quizzes, and tests.
The flashcards were helpful too! There are so many characters in these stories, it can get confusing. Before reading each day we would lay out the flashcards like a family tree. We put the cards telling about things instead of people to the sides of the "family tree" next to the people who used the items. Ambrosia, for example.
That review was helpful in keeping everything straight. It's almost like a fun way to quiz yourself. Can you lay out each character in order of parentage and attach their related items and ideas without looking back at the book?
Why Study Greek Myths?
I tell my kids that we're reading this stories for a couple of reasons.
They're entertaining and interesting for starters!
Greek myths examine what it means to be human. The Greeks wrote myths to explain every facet of the human condition–the struggles between older and younger generations, wars, the changing of seasons, natural events, pride, special skills people possess, birth, and death.
These rich and detailed stories are woven seamlessly through time, into our past and present. Many pieces of literature are based on Greek myths or allude to aspects of the myths.
After learning many of the popular Greek myths my nine year old was suddenly noticing them everywhere! For example in the My Little Pony cartoon…
Learning about Greek myths is sort of like cluing your child in to a big inside joke hidden throughout our culture and our literature.
Want to read more reviews from the Crew about this product? Click the banner below!
Some of us reviewed D'Aulaire's Greek Myths. Others reviewed Traditional Logic I Complete Set or the Book of Astronomy Set, both from Memoria Press as well.

Obligatory Disclaimer… 
Find Memoria Press on Social Media:
Facebook – https://www.facebook.com/memoriapress/
Twitter (@MemoriaPress) – https://twitter.com/MemoriaPress
Instagram (@memoriapress) – https://www.instagram.com/memoriapress/
LinkedIn – https://www.linkedin.com/company/memoria-press?trk=nav_account_sub_nav_company_admin
Pinterest – https://www.pinterest.com/memoriapress/
Google+ – https://plus.google.com/u/0/b/102017568472649365859/104379865092561103366/about?_ga=1.103684480.147808133.1453409903