Science Shepherd, Introductory Science: A Review!
This week we're reviewing two things. The first one is from
Science Shepherd
. It's called
Introductory Science
.
This is a Christian science program with two components: A series of daily videos online (a one year subscription), and an accompanying spiral bound physical workbook.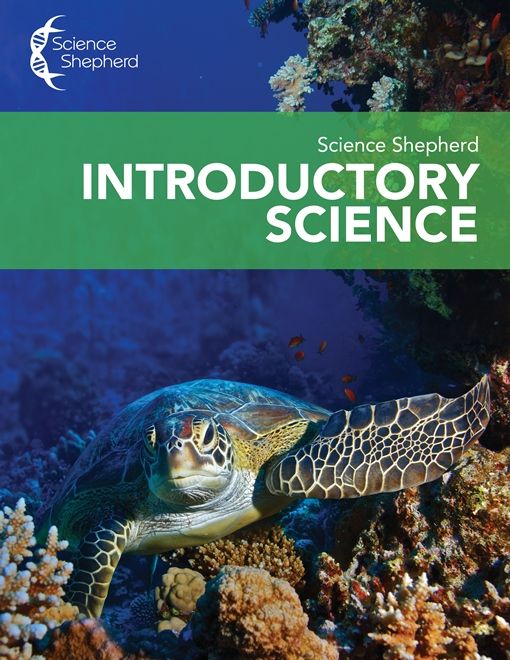 We enjoy science at our house, so I was excited to check out another science curriculum. This one was interesting. The daily video is short, but packed with info! This curriculum is meant to be a full science curriculum. We are reviewing Level B, which is appropriate for Rosie in 4th grade. In total the program offers content levels for ages 6-11.
The workbook to go along with the videos is very school-like. It has typical worksheets with questions about the daily video. Most weeks have five videos, though a few weeks have some extra videos.
The workbook also offers multiple choice questions, crossword puzzles, and ideas for experiments or activities to go along with the subjects.
Overall this is a simple and straightforward Christian science program. Not a lot of frills, but very functional and informational. Most of the videos are done by a male teacher at a news room type of desk.
How does this fit into our homeschool?
As I've said before, we focus mainly on Charlotte Mason which includes living books and nature study. However sometimes I think it's a good idea to throw in a simple curriculum like this one. It takes very little time per day, maybe 15 minutes, and it's not extremely in depth. Kids just get a basic overview of introductory science–weather, properties of matter, etc.
What I really like is how this introductory science course exposes kids to new ideas–it covers all the general bases, and then we can decide which things are of more interest. From there we can get more books from the library, look at more websites, and study deeper on topics that excite my kids. If a topic covered in the course isn't interesting or relevant to them at this point in time then that's ok–it only takes fifteen minutes out of their day, they've been exposed to it, and stored the information away somewhere for future reference.
Since we've been finishing up another science program for the year we didn't fully dive into this one. I enjoyed going over all of the lessons and workbook pages myself and sharing some of it with the kids to see what they thought. As soon as we're finished with our study of flying creatures we'll pull this one out and do the full course. I'm excited to see what my nine year old thinks about some of these topics! I like knowing everything is covered here too, there are no big gaps I'm forgetting because it's a full basic introductory course.
I particularly like that there's a section about the scientific method. This is pretty important in the grand scheme of things, and I want to definitely make sure my kids have a strong grasp of it!
Plus, science…it's fun and fascinating no matter how it's taught.
To see reviews of Level B and other levels and subjects Science Shepherd offers click the banner below!

Obligatory Disclaimer:
Check out Science Shepherd on social media!
Facebook – https://www.facebook.com/ScienceShepherd/
Twitter –  https://twitter.com/scienceshepherd
Pinterest – ? https://www.pinterest.com/scienceshepherd