The Magic and Wonder of Math and Science Adding & Subtracting: A Review!
Our second review item this week is a nifty math game from Sunya Publishing called Sunya – The Magic and Wonder of Math and Science Adding & Subtracting.  The adding and subtracting game is for ages 7+ and goes up to 9+9 and 18-9. They also offer a multiplication and division game in the same style for ages 9+.
Sunya Publishing is a new company! Their product is still in development, but the Review Crew got a sneak peek.
The game presentation is very simple: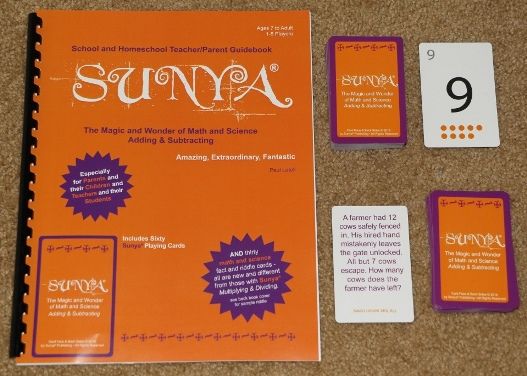 The word "sunya" is a Sanskrit word for "empty." The object of the game is to be the first player to use up all of your cards and to have an empty hand. When you use up your last card you have to yell, "SUNYA!"  (The word is pronounced like soon-ya, by the way.)
The winner of each round gets to ask the other players a fun question, a math or science riddle from the included cards. 
The game book is actually the instruction manual. It's 25 pages long and includes the Introduction, Hindu-Arabic Numeral System, Home and School, Sunya Adding and Subtraction, Math Activities for Young Children, and Math and Science Facts and Riddles. 
The instructions were a bit confusing at first. There are three levels of game play. A Basic Game, Game II, and Game III. For simplicity's sake we just went with the Basic Game. The levels increase in difficulty.
There is a set of rules to follow, and using those rules players make number sentences with their four game (number) cards in hand. The first player to use up all of his or her cards and yell SUNYA wins. 
The only thing we found lacking in the game were double digit number cards. The game intends for kids to use two cards to make a double digit number. 1 & 2 number cards to make 12, for example. This was a bit too confusing for my kids. 
Overall this is a fun game! The kids get to practice addition and subtraction skills while playing and challenging each other. I love games that can count as school! 
To see what other reviewers thought of this game and the multiplication and division version click the banner below!

Obligatory Disclaimer: