Beric the Briton: An Audio Drama Review from Heirloom Audio Productions!
This week's review is another audio drama from Heirloom Audio Productions titled Beric the Briton!
The product consists of a two disc CD set, which is over two hours long. Also included are several high quality downloads of bonus materials including a study guide, which is arranged to match up with the tracks on the CD with comprehension and discussion questions, activities, and related Bible studies. There's also an mp3 soundtrack from the audio drama included, and a printable poster with a quote from Julius.
In addition to all of that, Crew members also received a downloadable behind-the-scenes video, an ebook of the G.A. Henty novel, mp3 versions of the production, and a cast poster. So much good stuff here!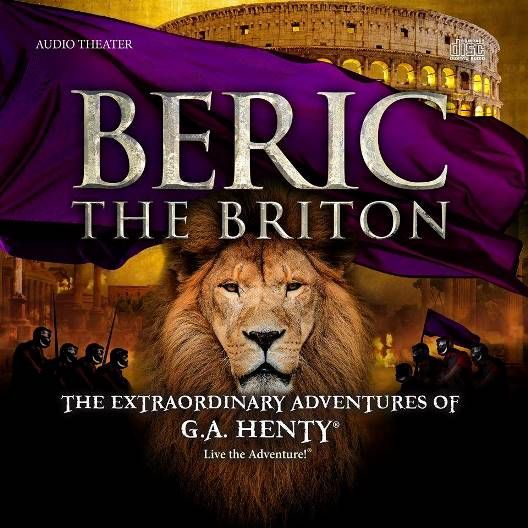 Audio dramas are very similar to audio books, except they are dramatized with various actors voicing the characters, sound effects, and music. They're like old fashioned radio shows, radio theater, or radio drama that our grandparents used to enjoy. My littlest kid kept telling me to turn on the TV screen because he thought we were listening to a movie. I had to continually remind him if he closed his eyes the movie would be in his head.
Beric the Briton is another of Heirloom Audio's productions based on a book by the classic author G.A. Henty. This author has written many high quality historical fiction books that bring events in history to life for children. His books are what Charlotte Mason style homeschoolers would consider living books because they take real facts and bring you right into the story, bringing history to life in contrast to reading a bit of text in a book about history that someone else summarized and dumbed down.
Heirloom Audio Productions is one of my absolute favorite companies. Every time we get a chance to review a new one of their audio dramas I am thrilled. This is the third one that we've reviewed from their audio drama series titled "The Extraordinary Adventures of G.A. Henty".

This G.A. Henty story is about Beric, a young guy who is a Briton chieftain during the rule of the tyrannical Roman emperor Nero. The Briton's queen Boadicea is completely disrespected by the Romans, and the furious tribes of Briton stand up to rebel. Beric is captured and taken away to Rome.
This audio drama focuses on people in history showing strong character qualities in the face of hard times, as do all of the other Heirloom Audio Productions. It's definitely Christian based, with mentions of God and an underlying Christian theme.
I think Beric the Briton is possibly my favorite Heirloom Audio Production of them all (so far!) simply because I love this period in history. It's a time period I never learned a single thing about during all my time in American public school. I find it fascinating, since my ancestors were British. I can't seem to read enough about what the lifestyle and people were like during the time of tribal Briton.
These audio productions are great to listen to as a supplement for history curriculum, or just in the car for fun! I've found that the whole family can enjoy them, including my toddler. We all get sucked into the stories and the kids don't even realize they're being transported back a significant time in history, or being introduced to famous historical figures. It's sort of like learning by osmosis, which is one of the best ways to build up knowledge!
This one is definitely another winning product for our family!
To read other reviews of Beric the Briton click the banner below!

Obligatory Disclaimer:
Find Heirloom Audio Productions on Social Media: