Apologia's Exploring Creation With Astronomy: A Science Review!
This week's review is from Apologia Educational Ministries. Apologia sent us the Exploring Creation with Astronomy, 2nd Edition to check out.
They included quite a few things in the package!
We received:
Student Text
Notebooking Journal
Jr. Notebooking Journal
Audio CD
The Notebooking Journal and Jr. Notebooking Journal are the same thing, but one is for younger children and the other is for older children. Since Ada is in first grade this year and Rosie is in fifth the two journals worked out perfectly for us! We were able to use both! (And plan to continue using both for our science curriculum this school year…)

First off, I want to say two things. 
We used Apologia's Flying Creatures on the Fifth Day last year and my fourth grader loved it. In fact it was her favorite subject last year! So even though the review term for the Creation curriculum was only seven weeks, we are very familiar with how their curriculum format works.
Apologia is a Christian based science publisher. For many people I know that will immediately rule them out due to the stigma of Christian homeschoolers notoriously learning wishy-washy science facts. I was somewhat hesitant for this very reason when we chose it for our science curriculum last year, I'll be honest. I decided to throw caution to the wind and just give it a try.  I believe Apologia is somewhat different, however.  While Apologia does teach creationism, it also teaches valid scientific facts that you would find in a standard science class. I choose to teach my children about both evolution and creationism. Deciding on one or the other is not a sticking point for us as we feel like there are many other things in life to worry about.
That being said, let's move on and discuss Exploring Creation with Astronomy! Apologia is known for their award winning science curriculum, and their revised edition of Exploring Creation with Astronomy was not a disappointment. ;)
This curriculum is for grades K-6. (I will say that I believe the material is in depth enough to continue using with 7th or 8th graders if they enjoy it. You can always supplement with library books for more info on topics that interest your student.)
The subjects covered in the book are basic, straightforward space and planet facts with the addition of related Bible verses where applicable.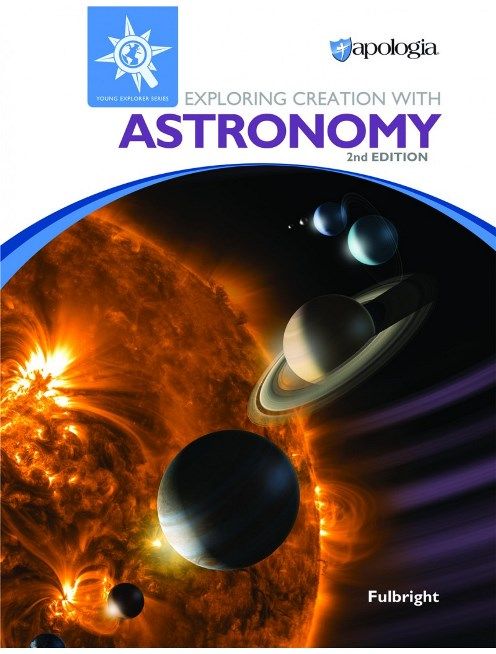 There are fourteen chapters/lessons in total.
Lesson 1: What is Astronomy
Lesson 2: The Sun
Lesson 3: Mercury
Lesson 4: Venus
Lesson 5: Earth
Lesson 6: The Moon
Lesson 7: Mars
Lesson 8: Space Rocks
Lesson 9: Jupiter
Lesson 10: Saturn
Lesson 11: Uranus
Lesson 12: Neptune
Lesson 13: Kuiper Belt and the Dwarf Planet
Lesson 14: Stars, Galaxies, and Space Travel
Each lesson is roughly ten pages long in the textbook, including plenty of color photos of the universe and hands on activities. We like that the textbook is written in a relatable, conversational format that holds everyone's attention. It's easy to read and understand, and broken up into short enough sections that kids of all ages can follow along.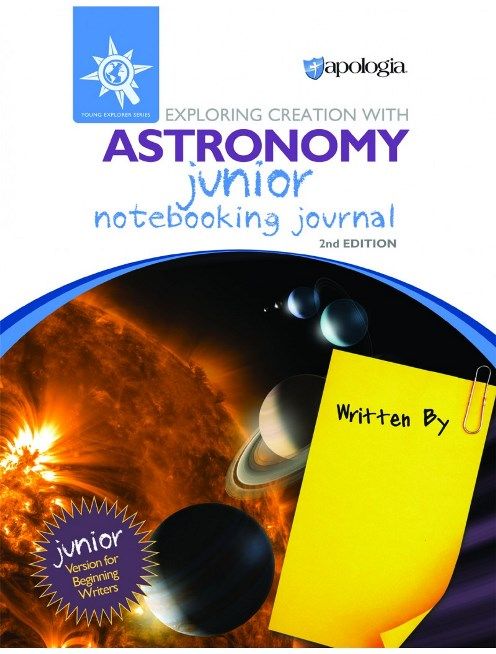 My kids love the journals the most! The journals have lessons matching each chapter in the book. Most lesson pages include copywork (a related Bible verse), a crossword puzzle, a hands on activity where you make a mini book or something similar, and pages for notes about what you've learned and observed.
Filling out the notebook pages is like the Charlotte Mason idea of narration! Children gather up what they've learned and cement it in their minds by expressing it in their own words on paper and discussing it outloud. This method works well for multiple types of learners, and it's fun! After the curriculum is finished kids have a nice spiral bound journal of their accomplishments to save.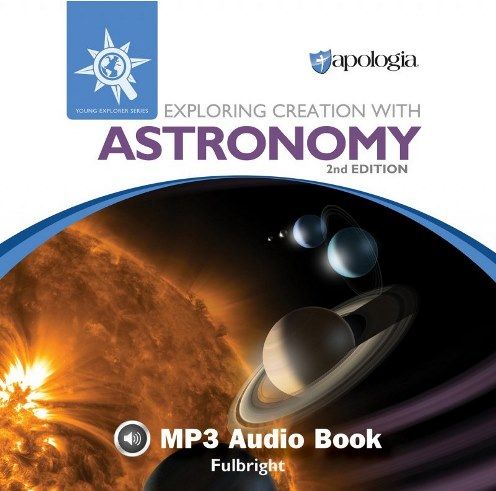 The MP3 audio CD is very helpful for when you're unable to sit and read the text out loud with the kids. Sometimes for my kids listening to someone other than me read aloud keeps their attention better too. Of course…
This curriculum definitely receives the seal of approval from our household!
To read more reviews from The Old SchoolHouse Review Crew click the banner below!

Obligatory Disclaimer:
Find Apologia on social media!
Facebook: https://facebook.com/apologiaworld
Twitter: https://www.twitter.com/apologiaworld @apologiaworld
Pinterest: https://www.pinterest.com/apologia/
Instagram: https://www.instagram.com/apologiaworld/